McCormick crawler tractors
McCormick crawler tractors ensure efficiency, comfort and safety on all sorts of terrain. Designed to operate in narrow spaces, e.g. orchards and vineyards, McCormick crawler tractors are extremely versatile and may be used also in open fields, especially for activities that require high traction, as well as material transport.
Efficiency, comfort and safety
Suitable for uneven, sloping and damp terrains, McCormick crawler tractors are dependable and reliable. The platform suspended on silent blocks and the adjustable seat ensure unparalleled comfort also on most uneven terrains.
Easy to handle, with ergonomic controls, low centre of gravity and a wide bearing surface, McCormick crawler tractors are the ideal solution for safety, stability and reduced soil compaction.
Thanks to the versatile hydraulic configuration and the extreme ease to connect the tools, they are the ideal solution to cater to the needs of modern-day farms.
Driving comfort was improved with the addition of a new seat air suspension, a new dashboard with ergonomic controls and a new digital instrumentation.
The McCormick T series is known also for its efficiency and high reliability, also in the most extreme conditions.
● TX4 F is the version designed specifically for orchards; it is ideal to work among narrow rows.
● TX4 M is the version designed for mountain environment, especially highly sloping terrains.
● TX4 STD is the open field version; designed to operate with heavy equipment, it features remarkable traction and towing power.
McCormick T series tractors feature Deutz AG engines with displacement of 2.9 and 3.6 litres Turbo aftercooler, 4 cylinders and 16 valves. The engines can deliver power between 76 and 102 HP in the TX4 F-M versions and between 98.6 and 106 HP in the TX4 STD version. Emissions comply with Stage 3B, Tier 4i regulations, thanks to the DOC non-regenerating catalyst installed for exhaust gas treatment.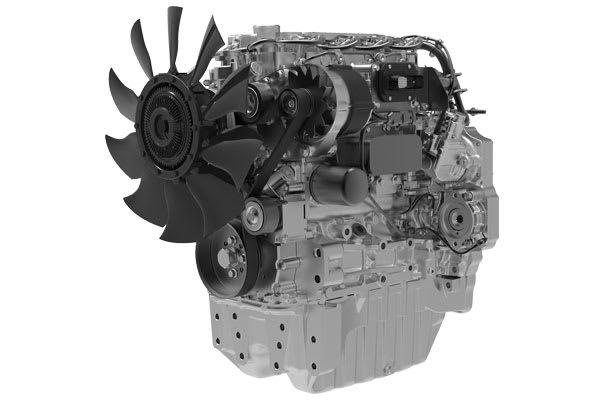 McCormick crawler tractors feature 8+8 or 16+8 (4 gears, 2 ranges) mechanical transmissions, featuring either overdrive or creeper. The Argo Tractors transmission systems are manufactured in Italy.
The power take-off is available in a 2-speed version: 540 – 540 E or 540 – 1000 rpm.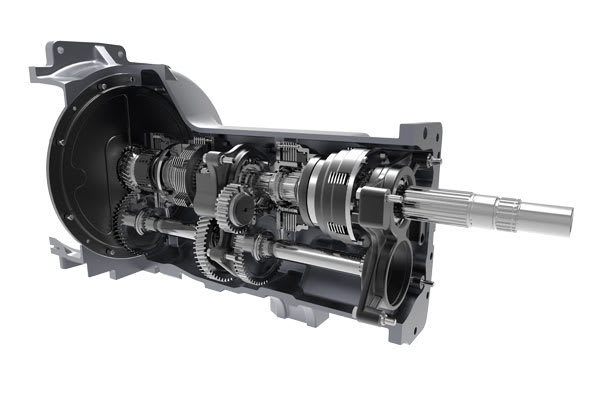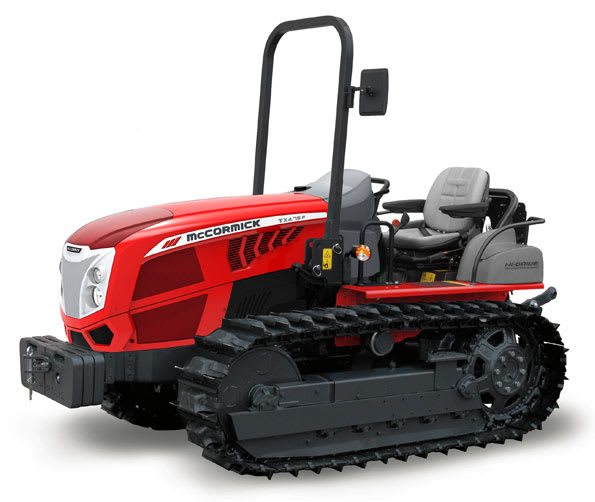 The hydraulic system in the T4F and T4M versions features two 41 +28l/min pumps as standard equipment: the first serves the rear hitch and the control valve, the second is for steering.
TX4 STD crawler tractors features two 39 +27l/min pumps, as well as an auxiliary 48 l/min pump for the control valves.
The basic hitch can lift up to 2,600 kg, which in the TX4 STD version can increase to 3,400 kg with the addition of 2 auxiliary cylinders.
The rear and front quick connections are arranged specifically to ensure very fast coupling, translating into comfort and time efficiency.
The T series features a new operator area: a new dashboard featuring ergonomic controls and a digital instrumentation to keep the main operation parameters under steady control, as well as a new seat air suspension.
TX4 STD crawlers feature an improved safety frame, designed after top-of-the-range McCormick tractor cab structures.