An independent review from Tractor.com
The X4 Series of utility tractors (UT) was introduced in 2014 as a three-model lineup (X4.50, X4.60 and X4.70) with power ranging from 90 to 107. For 2015, X4.20, X4.30 and X4.40 were added, along with a value model, the X4.35. Currently, the X4 lineup ranges from 64-107 horsepower, with open station and cab models available in short and long wheelbases.
The subject of this week's test, the X4.70, gets power from a Deutz C4DT62 3.6L four-cylinder engine that is turbocharged and intercooled and produces 101 rated horsepower at 2200 rpm (107 hp max). At the power take off (PTO), there is 85 hp available. Torque reserves are deep, with as much as 420 lb-ft available at rated RPM. EPA Tier 4i emissions compliance is achieved through a combination of cooled exhaust gas recirculation (cEGR), diesel oxidation catalyst (DOC), high pressure common rail (HPCR) injection, and electronic engine management.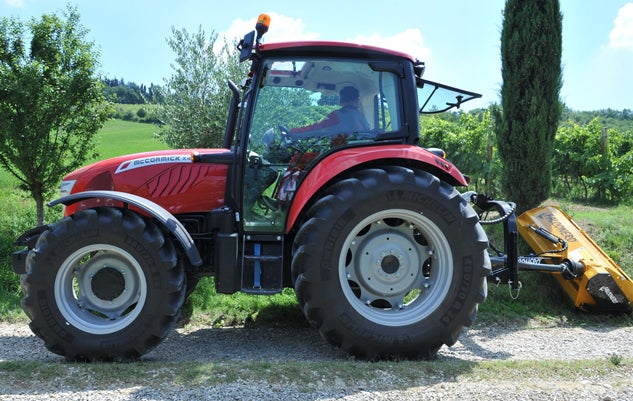 Base transmission is a built-in-house 12F x 12R mechanical Shuttle that has seven of those speeds smack in the middle of the all-important 2-9 mph range. A left hand turn stalk lever is used to control directional motion along with two levers on the right hand console, one for the four fully synchronized gears and the other for the three non-synchronized ranges. Order a X4.70 with this transmission and clutching is required when changing direction or making a gear change. Changing transmission range also requires clutching along with having to bring the tractor to a halt. Opt up for the power reverser transmission and you get effortless, clutchless control.
For maximum ease and control, McCormick offers a Hi-Low gear splitter that allows the operator to increase/decrease speed with the press of a button by 18%. This option also comes with an 8:1 creeper for requirements that need high engine rpm for power and PTO but slow ground speeds. Transport speed for the Hi-Low option goes up to 25 mph, but select the Eco Forty option and 25 mph is reached at a low 1900 rpm.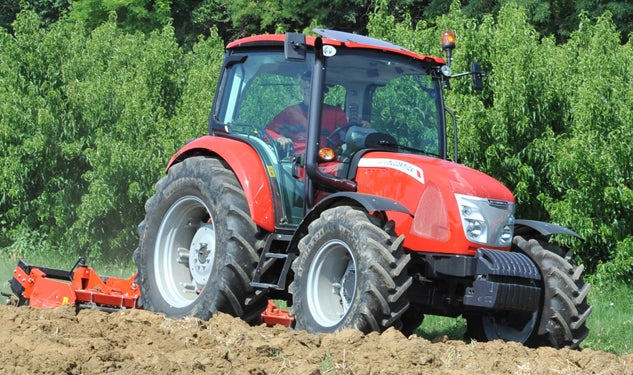 The rear axle is made from cast steel with planetary final drives and a fully locking electro-hydraulic differential lock. Step on the right side split brakes and the transmission automatically goes into 4WD to aid in braking. Need more braking power? No problem, you can outfit your X4.70 with front disc brakes.
Hydraulics run through an open center system with separate pumps for implement requirements (15 gpm) and power steering needs (8.5 gpm). This gives the Cat II three-point hitch (3PH) a lift capacity of 5952 lbs. at the ball ends. Need more 3PH lift capacity? No problem, there is an option that jacks up the lift capacity to 8598 lbs. Lower ball ends are adjustable and the outboard stabilizers telescope for ease of attachment. Position control and draft control are standard as are two rear remotes along with an option for a third. Need more versatility? No problem, two more SCV controlled valves are possible for a loader or a front 3PH, the latter a Cat II as well with 3858 lb lift capacity.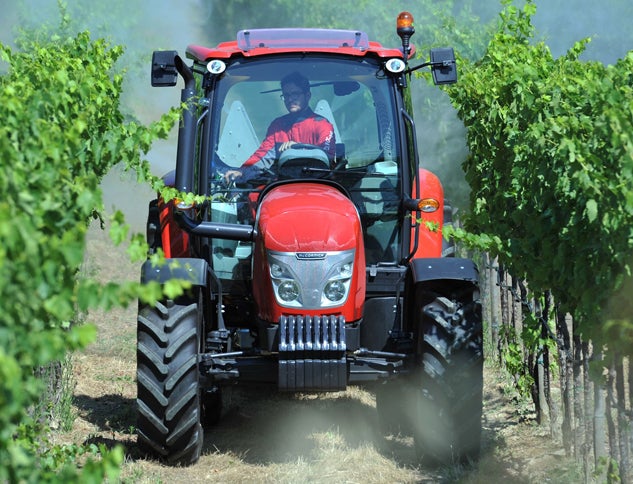 A 1000 rpm front PTO is also supported. For the rear PTO, both 540 and 1000 rpm are standard. All that's required to change from one speed to the other is a flick of a lever left of the operator seat and a shaft change requiring only simple hand tools.
Eying the X4.70 from the outside and the spaciousness of the cab immediately catches your eye. The width of the glass doors almost screams come in two at a time, with access not only possible from either side but with enough room to have the operator doing so if so desired. Climb up into the cab and the feeling of spaciousness continues. The floor is completely flat, pedals are suspended, and levers and controls are color coded and ergonomically spaced.
Settle into the deluxe fully adjustable air ride cloth seat and there is a near unobstructed 360-degree view with the four cab posts so small they seem almost invisible. The right side engine exhaust stack is also placed in such a way that vision is not at all hampered. Adding to the spacious view is a front roof skylight that can be opened and allows an extended view of the loader work range.
Two loaders are compatible with the X4.70; the X431 non-self leveling loader and the X436 our test tractor was equipped with. The X436 is self leveling with a lift capacity of 3263 lbs to a max lift height of 134". Breakout force is 3564 lbs and roll back force is 4059 lbs. A variety of bucket sizes are available and the system is skid-steer compatible.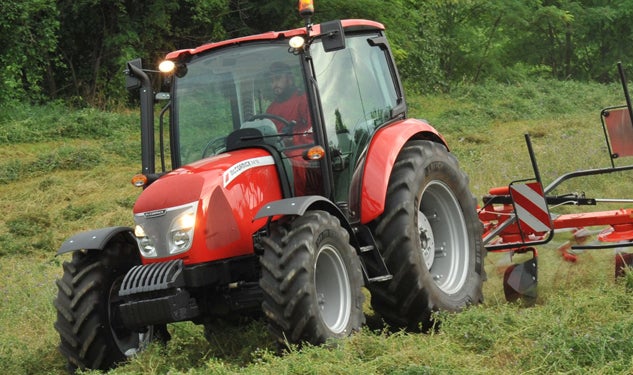 The 7775 lb X4.70 comes standard with radial tires (most competitor models come with bias ply tires) that ride on an 87.8" wheelbase. Overall length is 170.1" and the height to the top of the cab is 97.2".
Ideal for seed bed preparation such as plowing, tillage and harrowing, as well as use in tight quarters such as in orchard rows, any agribusiness in the market for a deluxe 100 hp cab tractor that comes well equipped but still offers a range of customizable options to fit individual needs would do well to check out the McCormick X4.70. And if you're in the vicinity of Montague, Mass., stop in at Sirum Equipment Co. who made an X4.70 available for our review, and ask for Adam.
This story was written and published by independent journalists from www.tractor.com