McCormick Farm, the connected tractor – bringing the future to today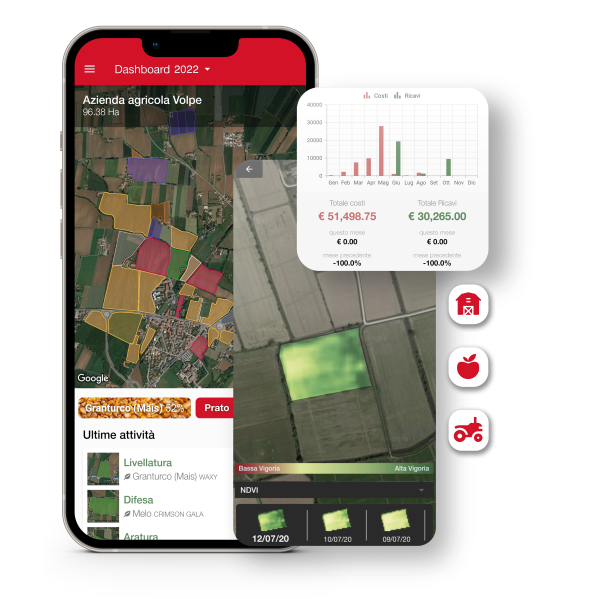 Power and control are increasingly inseparable in McCormick's tractors with Stage V emissions. The state-of-the-art features have been made possible thanks to the new McCormick Farm App, created as part of the digitalisation process of Argo Tractors, which makes smart farm management a reality.
The new application turns the tractor into a true data collection hub that, integrated with the already developed ISObus technology, telematics, remote diagnostics, and assisted driving systems, offers effective, immediate and complete control of the company's fleet.
"McCormick Farm is an extraordinary tool in the hands of farm operators and contractors – notes Antonio Salvaterra, Marketing Director of Argo Tractors –. It allows farmers to fully digitalise their business, keeping financial, logistical and operational management under control. In addition to improving the quality of work and the lives of its users, the App ensures greater environmental awareness, cultivation traceability and a more efficient use of resources".
McCormick Farm begins with land mapping and registration, then moves on to warehouse logistics (determining the optimal amount of fertiliser to use and stock control), identifying the best crops based on soil characteristics, and managing machinery, tractors and human resources. All through the saving and exporting of files and reports generated during cultivation. In addition, in-field sensor technology makes it possible to measure soil moisture and leaf wetness and, by cross-referencing these values with meteorological data, determine the best time to irrigate. Soil and crop management can also control plant diseases and the presence or absence of insect pests.
Scheduled maintenance activities and diagnostics of any irregularities are among the functions available. This reduces downtime and allows to monitor interventions so as to ensure tractor efficiency throughout its life cycle.
"The competitive advantage of our application – says Salvaterra – lies in the complete integration of various areas and tools, such as remote diagnostics and telematics, the Farm Management Information System, satellite navigation systems and, with Agrirouter, a data collection and exchange system open to a range of platforms. Full control of your entire fleet and farming operation is transformed into a true Smart Farming logic".
Everything can be managed from a computer, tablet or simply from a smartphone, with the information stored in the platform giving the farm manager an integrated and up-to-date view of the activity register, as well as certifying product traceability for increasingly sustainable agriculture. This path, which is essential for both small and large companies, is in line with an innovative vision that aims to create – from producer to consumer – a seamless supply chain featuring controlled quality.
"It is a decisive approach – concludes Salvaterra – which involves the whole company and that is why Argo Tractors has launched a training campaign that, starting within the group, has rolled out to all European subsidiaries. For farmers, the value of machines will increasingly depend on their ability to generate and transmit data in integrated digital ecosystems to achieve efficiency, traceability, and sustainability".