ARGO stand to focus on high-hp, high-spec offering from McCormick
Cereals debut for new 165-175hp X7 SWB and 135-155hp X6 HD tractors
A long-term supporter of Cereals, backing an arable sector where the McCormick brand is increasingly gaining popularity on mid-sized and larger arable farms, AgriArgo UK is once more focusing its display at Cereals on the high-spec, high-hp offering from its McCormick brand. The McCormick line-up extends to 310hp and is available with every aspect of technology required by today's arable producers, including CVT, ISOBUS and the latest precision farming systems. Making their Cereals debut will be: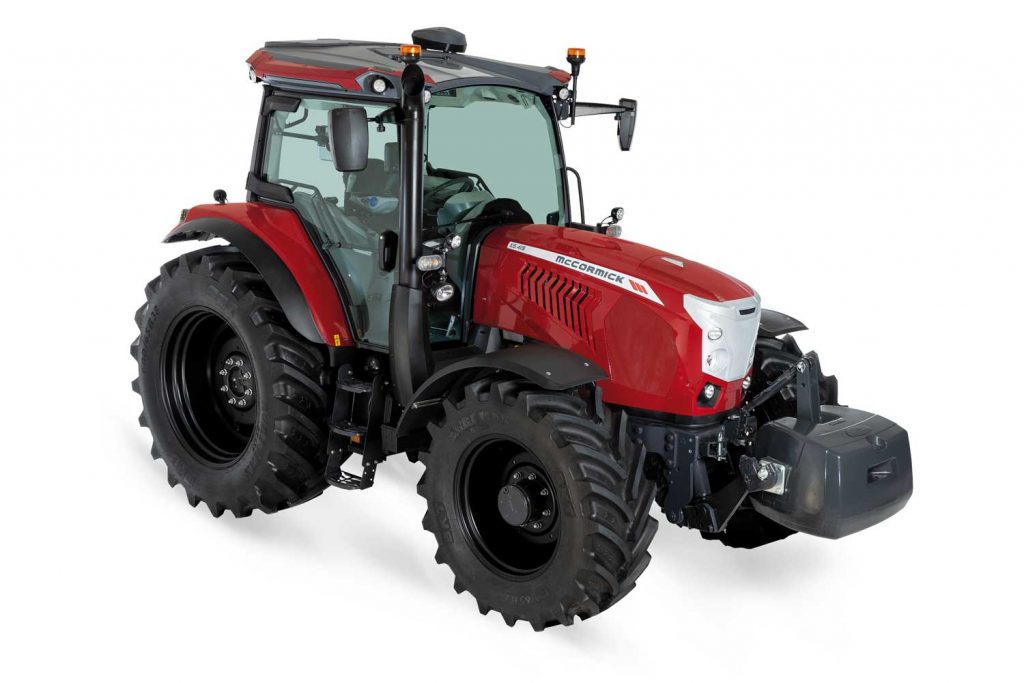 The new McCormick X6
Visitors who did not attend LAMMA 2022 will get their first chance to see the new Stage V McCormick X6.4HD P6-Drive tractors, of which there are three models: X6.413, X6.414 and X6.415 (135/145/155hp max). All feature four-cylinder FPT 4.5-litre engines with four valves per cylinder and include engine brake as standard.
A compact powertrain allows for a wheelbase of 2,560mm, and the P6-Drive semi-powershift transmission combines four ranges and six powershift steps, while a creep option extends total speeds from 24F/24R to 40R/40R. At the rear is a four-speed rear PTO and lift capacity of up to 7.2t, while on the options list is a 2.5t-capacity front linkage. Closed-centre hydraulics feature a 123 l/min pump capable of supplying up to seven spool valves.
The mechanically-suspended McCormick 'High Visibility' cab incorporates a FOPS-homologated panoramic roof with hatch for natural ventilation. Up to 14 LED lights can be specified, eight of which are in the roof, while comfort can be bolstered by optional front axle suspension. The interior features automotive-grade interior materials, while control of key functions is centred around a 12-inch touchscreen monitor and all-in-one multifunction joystick. McCormick's PSM (Precision Steering Management) system controls and manages satellite guidance, and integrates with the tractors' ISOBUS implement control system and McCormick Fleet & Remote Diagnostic Management. Externally, service access is enhanced by a new 90-degree opening bonnet and radiators arranged in a fan shape for easy servicing.
New McCormick X7 SWB
With a wheelbase of 2,650mm on four-cylinder variants and 2,760mm on six-cylinder versions, the new X7 SWB range comprises four semi-powershift P6-Drive transmission models and two VT-Drive CVT tractors, with a choice of mechanical or semi-active electronically controlled cab suspension. Four-cylinder powerplants feature in the X7.417 P6-Drive (165hp max) and X7.418 P6-Drive (175hp max), while there are six-cylinder engines in the X7.617 and X7.618, which have the same power ratings. The two VT-Drive CVT tractors are the 165hp/four-cyl X7.418 and the 175hp/six-cyl X7.618. With both transmission types the specification includes 'Stop and Action' disengagement of drive via the brake pedals.
The tractors'  Stage V turbocharged and intercooled FPT engines feature common rail electronic fuel injection, maximising responsiveness and minimising fuel consumption and emissions. Via the turbocharger's throttle valve, the tractor can be slowed by operating the engine brake with the rear brakes. The bonnet lifts to 90 degrees for full service access, and its styling has been refreshed, matching other McCormick tractors. The 3,500kg-capacity front linkage has been redesigned to enhance visibility, while at the rear is a 9,300kg linkage and up to eight spool valves, with a choice of 123 or 160 l/min closed-centre hydraulic systems.