The terms telemetry and remote diagnostics are used to describe a series of tools that allow farmers to monitor their fleets' activities and proper functionality, even remotely, as well as to correct or prevent any malfunctions, even in a predictive manner.
Contents
This technology therefore has two main objectives:
to allow farmers to know exactly where their tractors are and what work activities they are performing, and to record data to be used for future analyses.
to allow the specialised workshop to check for any malfunctions in real time, and to intervene whenever necessary, all with the owner's consent.
Benefits of telemetry and remote diagnostics for field work
These systems offer the end customer numerous benefits, and provide for a considerable increase in productivity thanks to the large amount of data collected and their ease of use during the analysis phase.
The available functions can regard
the machine's proper set-up and theidentification of any anomalies.
fleet managementand the prevention of breakdowns.
the reading of multiple data related to the machine activity and their direct transfer to the PC on the premises of the company or the dealership.
planning for proper maintenance.
This type of remote monitoring is essential for providing comprehensive and effective support for customers, who are thus able to have a problem-solving expert nearby at all times, even from kilometres away.
Thanks to its agreement with Actia McCormick is able to offer one of the best solutions available on the market
Thanks to the agreement reached with Actia, a French company specialising in telemetry, McCormick tractors have been equipped with one of the best and most advanced high-tech systems currently available on the market.
This system allows the McCormick support service to constantly monitor the tractor's efficiency, and to intervene remotely, even in a predictive manner.
In fact, the program includes a series of preventive checks designed to certify the tractor's proper use and functionality, thus maintaining its efficiency and value over time.
Let's take a closer look at the solutions that have been implemented.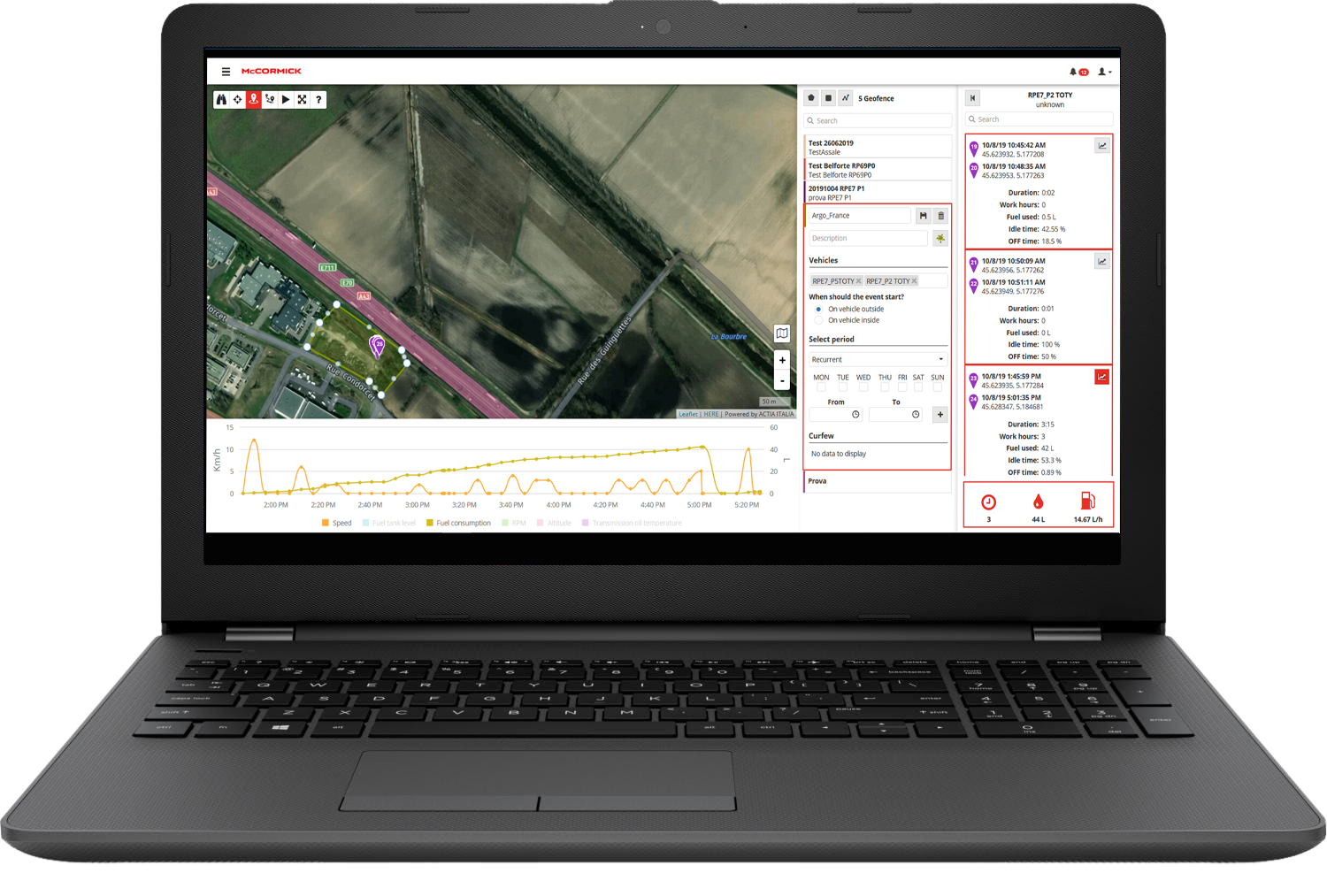 The "McCormick Fleet Management" web portal
McCormick's telematic Fleet Management system allows customers to monitor their tractor fleet's main activities at any time, anywhere in the world, with the aim of maximising the tractors' performance.
Thanks to the use of IoT (Internet of Things) protocols, customers are able to conveniently monitor their tractor fleet's activities in real time from the office, either from a PC or a mobile device, and can receive all the information they need about their tractors in real time.
The fleet's data is always available and protected in the cloud, and can be accessed by the fleet manager in order to monitor the tractors' operational status, and to view important information about the vehicles' activities and performance. All this is possible thanks to the real-time monitoring of several key parameters, including
geolocation
consumption values
levels
temperatures
work sessions
Remote diagnostics with the TGU-R telematic control unit
Making adjustments and resolving problems remotely is another major milestone that's been achieved through digital technology, and is used by the technicians in charge of servicing McCormick tractors.
In addition to the telemetry functions, McCormick tractors have also been equipped with a remote diagnostics function, thanks to the Actia TGU-R control unit.
The service technician can connect to the tractor and upload the diagnostic software, just as if they were to be on site, in order to carry out checks and, if any anomalies are encountered, to determine whether a remote intervention will suffice, or whether a mobile workshop intervention is needed. "For example, service calls can be avoided in cases where software updates are required, or when the tractor has gone into a protective lockout mode. Theoretically, the technician would normally have to make a service call and connect the diagnostic tool in order to gain access, but now they can do it without ever leaving the workshop," explains Alessandro Guerra of Argo Tractors.
In fact, Argo Tractors has recently adopted an innovative diagnostic and programming tool in the form of a software application that's been made available to all authorised dealers. Once connected to the tractor's control unit, the system allows for remote adjustments, program updates, engine parameter diagnostics, and error code display to be performed, as well as various other functions, thus providing the technicians with a quick and accurate support tool.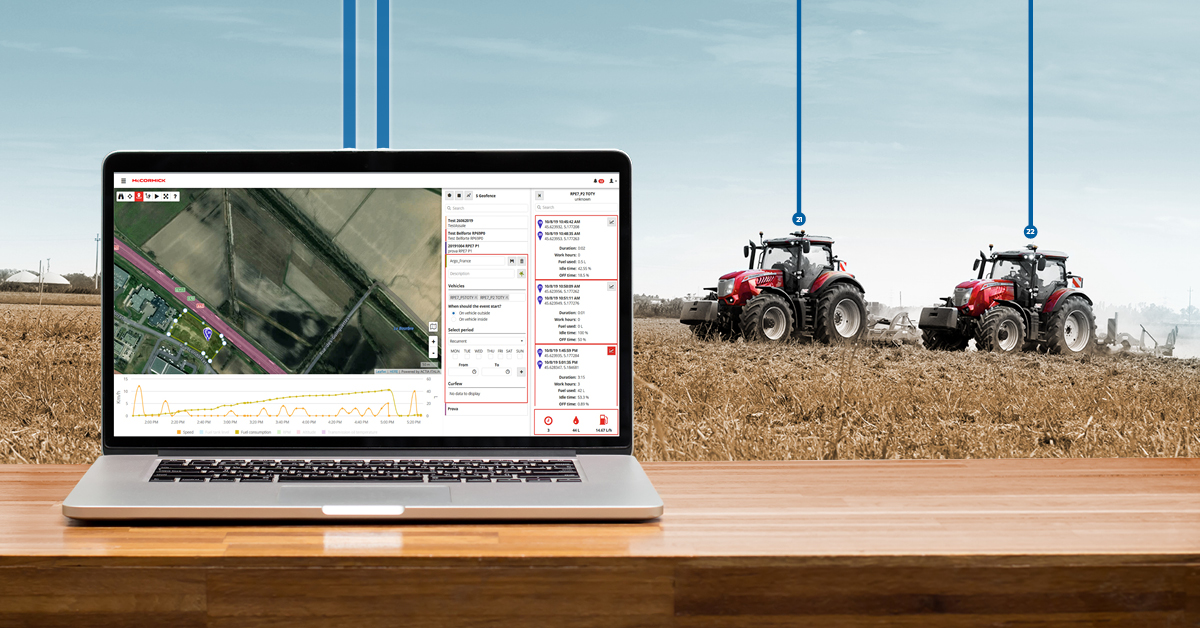 Conclusions
The two systems work together to ensure maximum tractor efficiency, prevent any major breakdowns, and resolve malfunctions in real time, thus effectively guaranteeing constant and continuous customer support.
By reading the environmental parameters and alarms, the telematic portal provides for an initial level of remote diagnostic support useful for preventing tractor breakdowns, and in the event of a confirmed anomaly, the remote diagnostic system allows the diagnostic tool to remotely connect to the tractor via the telematic control unit for prompt intervention, thus reducing downtime while at the same time minimising management costs thanks to a controlled and efficient maintenance plan.